Cherwell College Oxford and UC Berkeley's SCET collaboration enhancing entrepreneurship training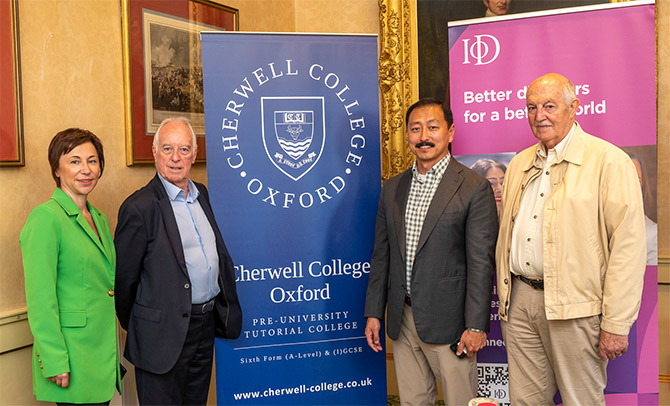 The new collaboration between the institutions focuses on promoting innovative educational methods and supporting faculty development
Cherwell College Oxford is excited to announce the partnership agreement with the University of California, Berkeley Sutardja Center for Entrepreneurship & Technology (SCET). This collaboration aims to focus on mentorship development and training for faculty at both institutions to further enhance their educational processes and foster a supportive environment for student growth.
Stephen Clarke, Principal of Cherwell College, highlighted the shared values between the institutions, "There is a synergy between Cherwell's pedagogy at pre-university level and the Berkeley Method of Entrepreneurship, as developed by SCET, at undergraduate and postgraduate levels. Both employ a flexible approach to an educational process with the aim of creating a favourable environment for students to flourish and achieve their full potential through focusing on the development of the individual in a competitive world of academia and business."
The collaboration will provide opportunities for faculty members from Cherwell College Oxford to learn from the experience and knowledge of the SCET team. Through workshops, seminars, and joint projects, faculty will gain valuable insights into the Berkeley Method of Entrepreneurship, an award-winning curriculum that focuses on mindset training for innovators and entrepreneurs.
"What will education look like in the future? I would like to believe that education will look like what we currently provide at the UC Berkeley Sutardja Center, which is very different from what you currently find at most institutions," says Ken Singer, SCET managing director. "Every year we invite students from around the world to come study and start companies with us, and we are really excited to have students from Cherwell join that small group to become their own entrepreneur."
The Sutardja Center is renowned for its work in entrepreneurship and technology, with a global innovation hub at UC Berkeley's College of Engineering. The center offers a suite of courses and programs for students, executives, and global innovators, as well as conducting research in emerging technologies. The partnership with Cherwell College Oxford will further strengthen the centre's commitment to promoting entrepreneurship and innovation on a global scale.
Cherwell College Oxford specialises in pre-university education, preparing students for higher education at leading UK and US universities. The college's pedagogy is based on the Socratic method of teaching, which develops reasoning, critical thinking, and erudition. Through this partnership, Cherwell College Oxford will continue to build upon its strong reputation for delivering first-class education in a positive, motivating, and rewarding learning environment. The Principal of Cherwell College Oxford (Stephen Clarke) also emphasised his associations with ATOM Festival, the Institute of Directors (IOD), the Leaders Council, and the Oxfordshire Local Enterprise Partnership (OxLEP) as a testament to the commitment to innovation and growth in the educational sector.
Together, Cherwell College Oxford and the Sutardja Center are excited to embark on this partnership, leveraging their combined expertise to promote innovative educational methods and support faculty development for the benefit of students across the globe.