Cherwell College Oxford participate in UK Parliament Week
GCSE and A-Level students at Cherwell College Oxford participated in the annual UK Parliament Week, which commenced with a special message from Sir Lindsay Hoyle, 158th Speaker of the UK House of Commons.
"Welcome to 2023's record breaking UK Parliament Week. Over 1.4 million people are joining in from every corner of the UK and countries from all over the world, including the British Overseas Territories and, of course, the Crown Dependencies. It's fantastic to see everyone, especially young people, getting stuck in and learning about how they can make the difference on issues that matter to them."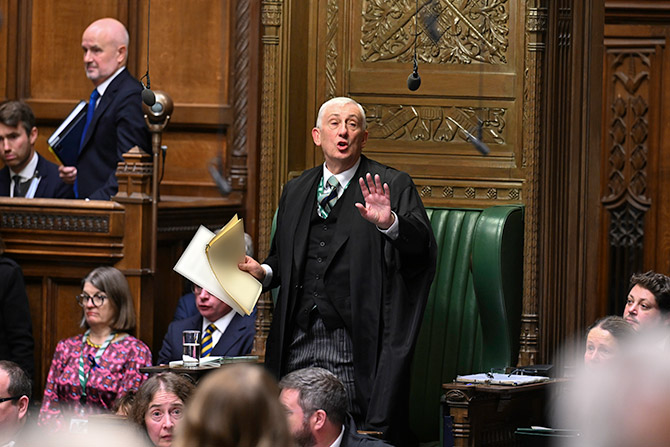 Sir Lindsay Hoyle, 158th Speaker of the UK House of Commons. ©UK Parliament/Maria Unger
What is UK Parliament Week and why do Cherwell College Oxford engage with the event?
UK Parliament Week (UKPW) is an annual event dedicated to disseminating information about the essence of Parliament, its functions, and avenues for active participation. This event serves as an excellent opportunity to delve into the intricacies of the UK Parliament, offering both new insights and refreshing reminders for participants.
Throughout UK Parliament Week a diverse array of activities takes centre stage as seen below:
lively debates and quizzes
discussing issues and holding votes
creating petitions
themed assemblies and school council elections
meeting your MP, a member of the Lords, local councillors, mayors, MLAs, MSs or MSPs – either in person or virtually
Alan Carter, Politics tutor and Senior Academic Advisor at Cherwell College Oxford has organised UKPW for the past two years and has seen great results from the event. Alan has twice been able to secure the local MP, Anneliese Dodds, who joined in discussions where students have had the opportunity to talk to Anneliese about her career and views, all of which has been tremendous value. These kinds of experiences stand out when our students take them away and include them on their CV and personal statement when applying to university.
Speaking on UKPW 2023, Alan expressed, "All of our students are welcome to participate in UK Parliament Week, and that's the key term, participation. The whole essence of the week is curated by Parliament itself as part of their own outreach programme to make young people more aware and engaged with politics. The statistics tell us that young people are much less likely to participate in politics despite what we might think in terms of demonstrations or other public direct action. When it comes to voting in national and local elections, the stats clearly show the older you are, the more likely you are to vote. The idea is that this needs correction and one of the ways to increase young people's participation is through events and activities such as UK Parliament Week."
Sean Murphy, tutor of History & Politics at Cherwell College Oxford added a key benefit of engaging Cherwellians with UKPW, "It's not only students studying politics that engage with UKPW, but also other students who are studying subjects such as biology, physics and maths who engage equally as much offering different perspectives."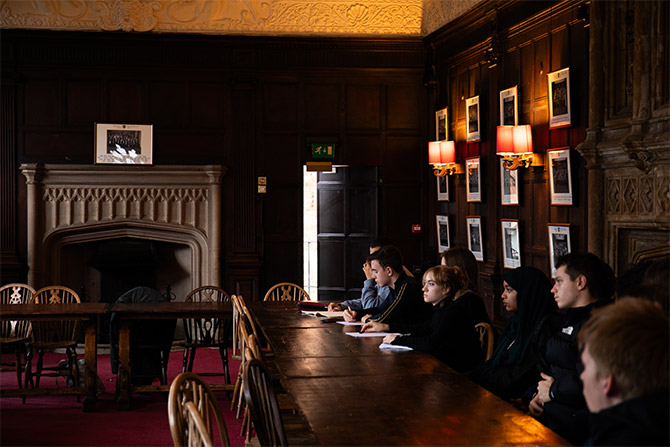 Cherwell College Oxford students partake in debating activities ©NX Media & Cherwell College Oxford
During the week Sean and Alan gave students the choice of what debate and voting topics to engage with as provided by UKPW:
You must be 18+ to have any social media account
You should have to pass a test to own a pet
Altered photos shared online should come
with a label
The school day should be an hour longer
Plastic packaging should be banned for all
food products
Posting anonymously on social media should
be banned
All new houses should be required to have
solar panels
The minimum age for buying 'junk food'
should be 16
Mobile phones should be banned in school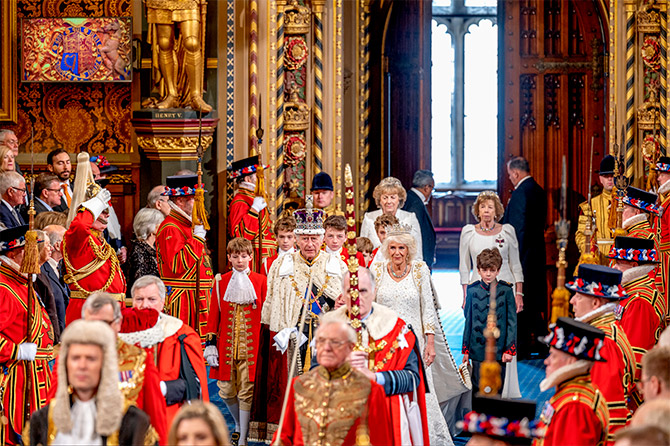 The State Opening of Parliament marks the start of the parliamentary year and the King's Speech sets out the government's agenda for the next session of Parliament. The King and Queen process through the Royal Gallery. ©Copyright House of Lords 2023 / Photography by Annabel Moeller
State opening of Parliament during UKPW
Tuesday 7th November, saw the State Opening of Parliament marking the start of the parliamentary year, giving Cherwellians an excellent opportunity to watch the event and gain further insight into Parliament. During the State Opening of Parliament, His Majesty
The King delivered the King's Speech which set out the government's agenda for the next session of Parliament.
The day marked an historical occasion with The King's speech being the first in over 70 years. During which, The King addressed key issues which would be tackled by his government and Ministers such as increasing economic growth, bringing down inflation and reducing reliance on volatile international energy markets.
Speaking on plans for education, The King stated, "My Ministers will strengthen education for the long term. Steps will be taken to ensure young people have the knowledge and skills to succeed through the introduction of the advanced British standard which will bring technical and academic routes into a single qualification. Proposals will be implemented to reduce the number of young people studying poor quality university degrees and increase the number undertaking high quality apprenticeships."
Members of Parliament swiftly began debating elements of The King's Speech in the House of Commons and continue to do so up until Wednesday 15th November. Elements of the debates which took place during UK Parliament Week were shown to some of the Cherwell College Oxford students with British politics students covering further elements of the final debates taking place this week.
Debates around the King's Speech which took place during UKPW:
Wednesday 8th November – Breaking down barriers to opportunity;
Thursday 9th November – Making Britain a clean energy superpower;
Debates taking place between 13th-15th November:
Monday 13th November – Building an NHS fit for the future;
Tuesday 14th November – Securing high, sustained economic growth in every part of the country;
Wednesday 15th November – Reducing violent crime and raising confidence in policing and the criminal justice system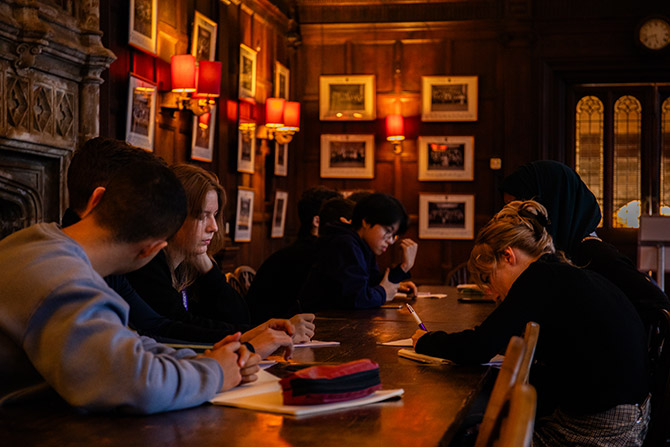 Cherwell College Oxford students partake in debating activities ©NX Media & Cherwell College Oxford
Cherwell College Oxford's 'Debate Club' at The Oxford Union
UKPW also coincided with the third annual Cherwell College Oxford 'Debate Club' which took place in the world-renowned The Oxford Union. Members of The Oxford Union who are also students at Oxford University share their debating and oratory skills with Cherwellians which complements and undoubtedly enhances their studies.
So far some of the topics which have been covered in the 'Debate Club' are conflicts in the Middle East and Ukraine as well as Elon Musk's involvement with AI.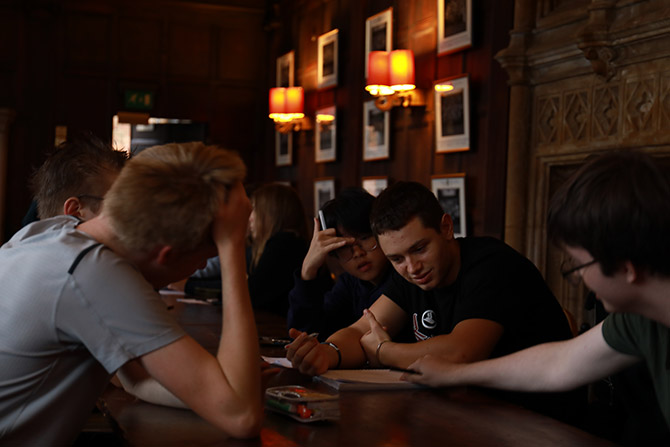 Cherwell College Oxford students engage in 'Debate Club' at the The Oxford Union. Image ©NX Media & Cherwell College Oxford
Peace Conference
On Saturday 11th November, as part of the final engagement with UKPW 2023, Cherwellians were invited to attend a Peace Conference. The conference took part in the centre of Oxford with key topics covered as follows:
Do borders exist?
Access to a place is a human right. How far should we care?
Does the chance of my birth give me more rights?
Is the UK full?
Alan Carter believed students came away learning how to tolerate other people's views, listen, and respond rationally.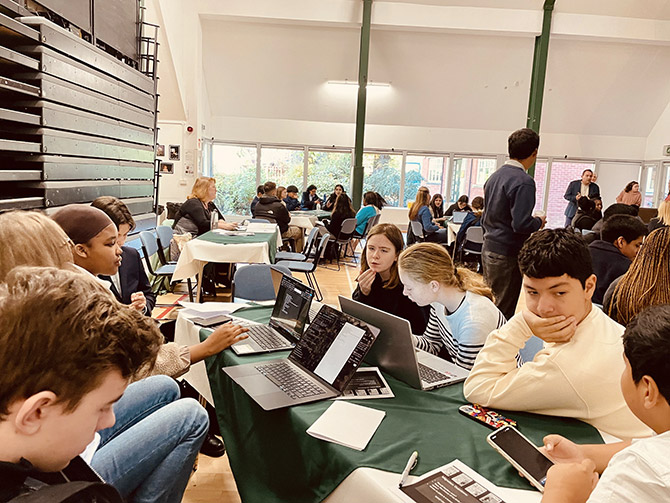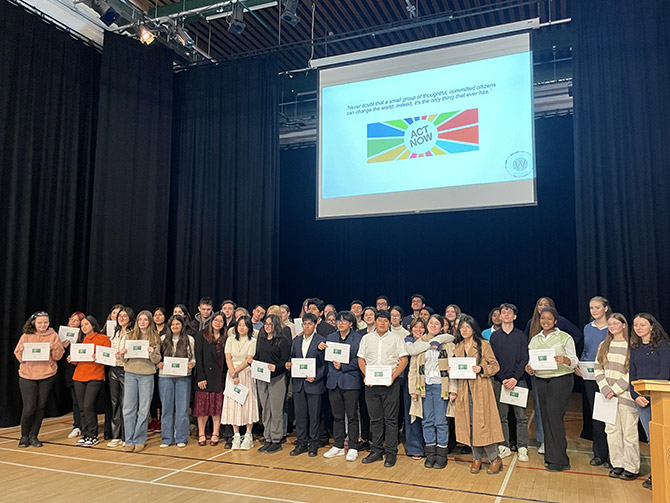 Overall, UK Parliament Week at Cherwell College Oxford was packed full of activities which brought about a myriad of positive outcomes, successfully igniting further political interest, diversified perspectives, and promoted active participation amongst students.
Click here for admissions to study GCSE or A-Level at Cherwell College Oxford
Click here to learn more about 'Debate Club' at Cherwell College Oxford
Click here to learn more about Cherwell's link with The Oxford Union