Student in Spotlight: Tatiana
Congratulations to Tatiana, our A-Level student! 
Tatiana has recently received Certificates of Commendation from Exeter College Oxford Summer Essay Competition 2021. Certificates of Commendation are awarded for excellent essays, and we are very proud of Tatiana's achievement!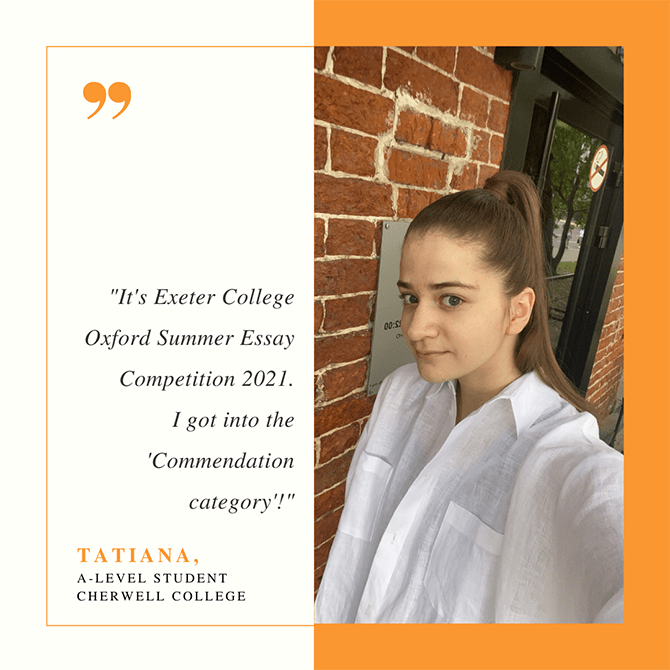 Exeter College Oxford Summer Essay Competition is open to UK-based pupils in Year 12 or equivalent. The contestants this year were encouraged to submit essays shedding light on current issues they think need solving, or research an important aspect of the favourite subject and offer a potential solution.
Tatiana is originally from Russia. She has a keen interest in international law, politics and human rights. She is currently undergoing a 3-month online internship programme with PSCORE NGO who are physically based in Seoul, South Korea. She regards herself as a human rights activist and by being involved with PSCORE she is trying to raise awareness of the humanitarian issues in North Korea and helping to achieve liberty for North Korean refugees. 
Tatiana is reading A-Level Politics, History and Sociology at Cherwell College Oxford. She aspires to a career in international law and is working towards The Law National Aptitude Test to apply to UK universities for her undergraduate studies (including the University of Oxford). 
Join us in congratulating Tatiana on a well-deserved award and for all the effort and passion she invests in raising awareness on issues close to her heart. We hope her story serves as an inspiration to other students. 
To read Tatiana's winning essay click here