Success story: RALINA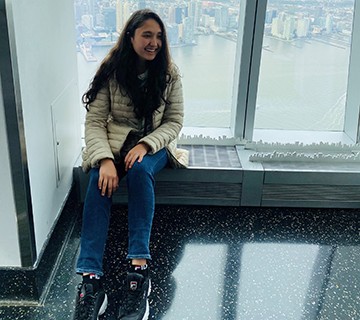 "This is my second year of study with Cherwell. I have completed my GCSEs at the College and have achieved top grades, despite having to learn mostly online!"
I began studying with Cherwell from September 2020, when the COVID-19 pandemic hit globally. Knowing that I had an important academic year ahead, I wanted to achieve top grades for my GCSEs despite having to learn mostly online. When my family and I had reached out to Cherwell College, they were welcoming, supportive and understanding of my goals and academic aspirations. It instilled confidence and enabled me to fulfill my potential during a challenging and uncertain time.
Cherwell College offers various course options, including an in-person face-to-face tuition and a system of blended learning – where students can study face-to-face with their tutors via an online teaching platform (Microsoft Teams). All modes of learning are aimed to support the student's specific academic needs and accommodate their individual circumstances. Cherwell provides personalised tutoring, where lessons are delivered in very small groups, or even individually, meaning you can really focus on actually achieving academic excellence. Cherwell tutors provide an immense amount of support as well as resources to help with student learning, as well as offer enrichment activities such as debate clubs and various talks presented by notable Oxford-based individuals.
Cherwell, personally for me, has proved time and time again that they provide excellent tuition and a motivating learning environment, both via an in-person face-to-face course options and through the concept of blended learning. At Cherwell, it is possible to achieve anything.
***
Read Ralina's mini-article on the Value of Online, or watch a short video with Ralina talking about her experience at Cherwell: https://youtu.be/dMde9tL1_QA