APOLLO 5 CHOIR
❗️Admission is free, donation is welcome! Please book your free ticket here: Register for the event
The award-winning British vocal ensemble Apollo5 will join the festival for the celebration of music. Praised for their powerful singing and distinctive sound, they are able to showcase each individual voice while still achieving their critically acclaimed blend. Whether performing jazz, pop, classical or even early sacred music, they are known for their exceptional communication with audiences, frequently performing from memory.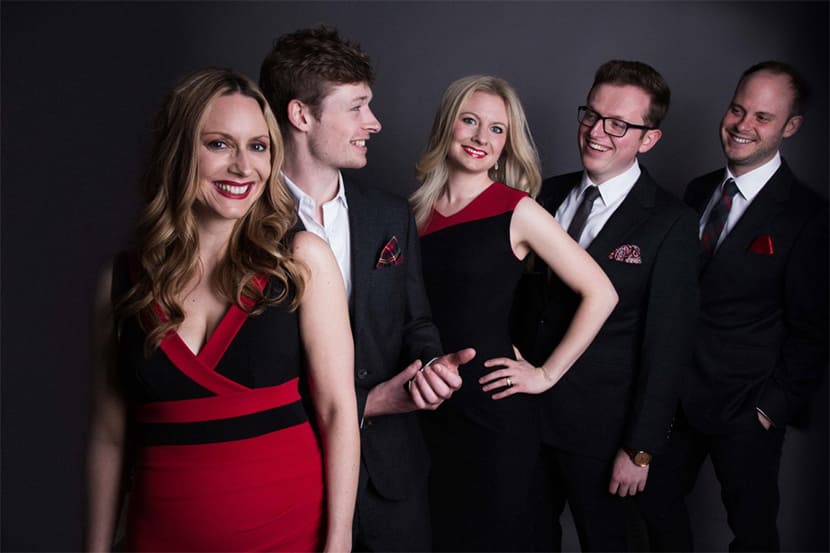 At the heart of this concert by vocal group Apollo5 are pieces by contemporary Ukrainian composers Victoria Vita Polevá and Anna Kuzina-Rozhdestvenskaya, both currently writing under extraordinary, volatile and fragile conditions. Their work is paired with the Agnus Dei from the Mass For Five Voices by Tudor composer William Byrd. Much of Byrd's late music was written under the cover of secrecy, after a clandestine conversion to Catholicism at the height of the Reformation. Luxuriating in the ornate, sumptuous writing that was permitted by his separating from the restrictive austerity of early Protestantism, Byrd engaged his singers – possibly one to a part – for private and covert performances in the domestic chapels of recusant Catholic families. Polevá's trio of mystical miniatures and Kuzina-Rozhdestvenskaya's Angus Dei, dedicated to the victims of the war in Ukraine, sculpt a dramatic and moving collection that speaks of music as a vehicle for escapism, a solace against the storm of personal upheaval, dislocation and adversity.
Apollo5's programme incorporates other pieces written by Byrd and his contemporary Francisco Guerrero, as well as sacred works by Thomas Tallis and Francis Poulenc. Other pieces, which are taken from the group's Where All Roses Go album, are centred around the theme of love and form a rich tapestry intricately woven with conflicting strands: life and loss; beauty and mortality; brave romance and fragility in rejection.
This concert is part of the inaugural Ukrainian Culture Weeks, organised by Cherwell College in collaboration with Kyiv-based Dom Master Class and the Oxford University Ukrainian Society. The festival aims to bring Ukrainian culture to the fore, whilst supporting Ukrainian democracy and freedom.
Programme
Vigilate – William Byrd
Beata Viscera – Byrd
Civitas Sancti Tui – William Byrd
Virgen Sancta – Francisco Guerrero
Salve Regina – Francis Poulenc
Psalm 2, the Third of Nine Tunes for Archbishop Parker's Psalter – Thomas Tallis
Lost Innocence – Paul Smith for Apollo5
Life-giving Spring – Victoria Poleva
Easter Stikhere – Victoria Poleva
All the angelic hosts – Victoria Poleva
Agnus Dei from Mass for Five Voices – William Byrd
Agnus Dei – Anna Kuzina-Rozhdestvenskaya
The Last Rose of Summer – trad. Irish arr. Fraser Wilson for Apollo5
Music, When soft Voices Die – Taylor Scott Davis for Apollo5
Where All Roses Go – Michael McGlynn
Homeward Bound – Marta Keen arr. Paul Smith for Apollo
Singers:
Penelope Appleyard
Clare Stewart
Oscar Golden-Lee
Oli Martin-Smith
Augustus Perkins Ray
Tubular Bells:
Teena Lyle