Face the Future – Fedir Vozianov's fashion & music performance
Fedir Vozianov is a renowned Ukrainian designer, researcher, fashion innovator, one of the most extravagant designers in Ukraine. Fedir was supposed to build a brilliant linguistic career, but he chose a very different path – the one full of magical transformations, constructive and avant-garde solutions. The exceptional style of his designs has won him recognition not only in his homeland but also in Europe, where Vozianov often shows his collections.
! Admission is free, please register to secure a place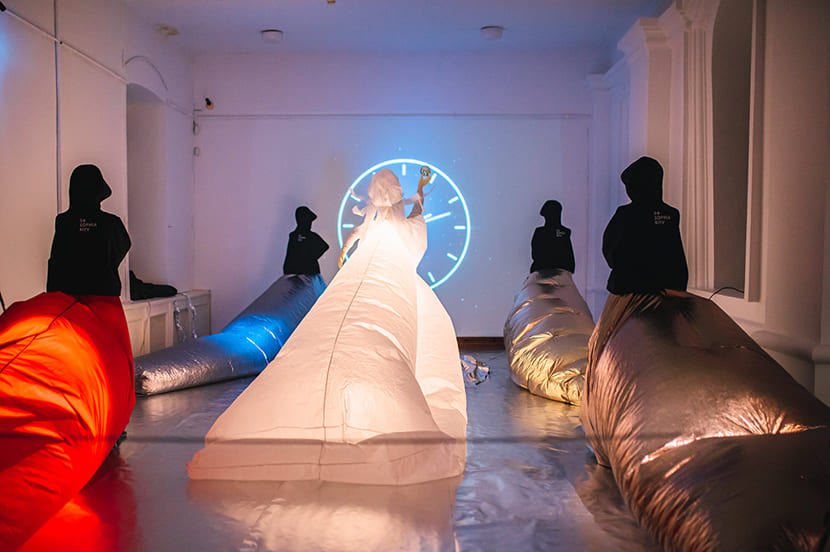 Face the Future is a mystery fashion show that presents a collection created by Fedir. It is both a show and performance, investigating the relationship between a human being and time, the way we percept time and the way it influences the life flow and changes the paths.
The Past and the Future. We are in between. Time is an indiscernible stream flowing from the Future into the Past through the Present. And through the flow of Time, we are able to face the Future. The attire is filled up with the wind of time, which outlines the shape. Every motion of a dress is like a moment of life.
Ukraine is at war at this very moment: the war of the civilized Future against the imperial past. The position of Ukraine in this cruel bloody war is obvious to the whole world. Ukraine is fighting not only for its Future but for the Future of the whole civilized world.
"If you turn your back to the Wind of Time, you are doomed to live in the Past. The Future comes to those, who face it", says Fedir Vozianov.
Fashion performance Face the Future is a merge of the designer dresses exhibition and the concert of Bach music performed by vibraphonist.