CHAMBER CHOIR "KYIV"
Valentyn Sylvestrov's Music Concert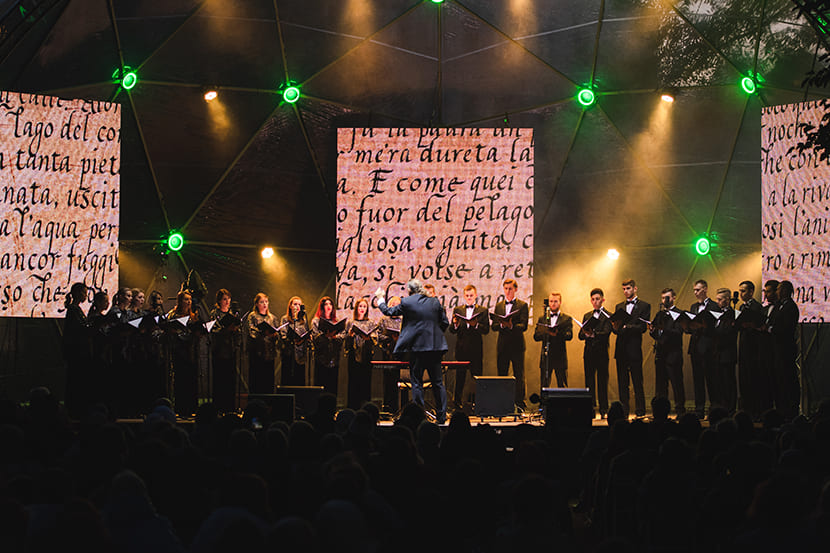 A concert of Sylvestrov's latest choral works will be presented at the stage of the festival by the Municipal Chamber Choir «Kyiv», founded in 1990 and renowned in Ukraine and around the world. The choir is dedicated to exploring the Ukrainian choral heritage of the 17th-18th centuries, yet dedicating due attention to contemporary Ukrainian music. The choir's permanent leader, Mykola Hobdych, gained recognition as an innovator and pioneer. His interpretations, in particular, of Sylvestrov's works, are recognised by the composer himself as the most appropriate and correct. Valentyn Sylvestrov often composes his choral works bearing in mind the potential of this very Choir, which performed a number of the world premieres of the works of Valentyn Sylvestrov.
Programme
Tears (Songs without words) (2022, premiere)
1. Prelude
2. Farewell waltz
3. Pastoral
4. Lullaby
5. Elegy
6. Morning waltz
7. Postlude
In Memoriam
1. Requiem
2. Lacrimosa
3. Holy God
4. Requiem aeternam
5. Agnus Dei
6. Elegy
7. Lacrimosa
8. Our Father
9. Elegy
Poetry's Music (2021)
1. Apple blossom (Pavlo Tychyna)
2. I listened to the spring (Lesya Ukrainka)
3. You will bloom (Ivan Franko)
4. My star (Taras Shevchenko)
5. Asters (Vladimir Sausyura)
About the Choir:
The concerts of the internationally renowned Chamber Choir "Kyiv" are unlike anything else in classical music today. Under the direction of Founder and conductor Mykola Hobdych, the Choir presents the best of Ukrainian choral music, drawn from a tradition that extends back more than 1,000 years.
The Chamber Choir "Kyiv" was founded in December 1990 by the conductor Mykola Hobdych. It has performed thousands of concerts in at least 21 countries, including the renowned venues in the USA, such as Carnegie Hall, the National Cathedral, and the White House. The choir performs a cappella. The repertoire includes well-known classical compositions, as well as the works of Ukrainian composers such as Mykola Lysenko, Mykola Leontovych, Kyrylo Stetsenko, Artem Vedel, and Mykola Diletsky.
The Chamber Choir "Kyiv" has been awarded and praised in international choral competitions. These include first prizes in the 1st Schumann International Choral Competition in Zwickau in Germany, the 12th International competition of Choir Music in Poland, the 7th International Choirs Competition at Sligo in Ireland, and the second prize in the Choir of the Year Competition.