AN ANGEL'S TOUCH – BOHDANA PIVNENKO, ANNA KHMARA
Ukraine's leading violinist Bohdana Pivnenko has been an ardent populariser of Ukrainian music for many years. Her friendship and collaboration with many composers resulted in the creation of numerous pieces of music, many of which are dedicated to her. 
The creative duet of talented performers, the violinist Bohdana Pivnenko and the pianist Anna Khmara, present the works of composers that reflect the diversity of approaches in the Ukrainian compositional art of the last quarter of the 20th century and the first two decades of the 21st century – by Myroslav Skoryk, Levko Kolodub, Yuliy Meytus, Valentyn Sylvestrov, Yevhen Stankovych.
Programme
Myroslav Skoryk  "Melody"
Sonata No1 which is the composer's diploma work
"Elegy"
"Carpathian Rhapsody"
"Melody of Moments" by Valentyn Sylvestrov – "Dedication to Bach"
"Songs without Words",  dedicated to Bohdana Pivnenko
Yevhen Stankovych "Touch of an Angel"
Reinhold Glier "Romance" is an ode to love, tender and expressive
Julius Meytus "Allegro"
Levko Kolodub "Sketch in the Moldavian Style" – the colourful atmosphere of Bukovina
The musicians to perform:
Bohdana Pivnenko has performed as soloist with the leading Ukrainian orchestras and presented Ukrainian musical culture at concerts in Paris, Vienna, Berlin, and at festivals such as the International Youth & Music Festival Vienna (Gran prix winner), Berliner Festspiele MaerzMusik, Europaisches Klassik Festival (Ruhr), "Kyiv-Musik-Fest", the Warsaw Autumn, Nostalgie, Malta-Festival(Poland) and others. Graduated with honours and completed an assistantship program course from the Tchaikovsky National Music Academy of Ukraine, she is the laureate of numerous world competitions and special prizes. The violinist has toured with recitals in Spain (including Palau de la Musica Catalana in Barcelona), Poland, Georgia, Netherlands, Lithuania, Ukraine, Armenia, England, Switzerland, Germany, Italy, France, USA (including Weill Recital Hall/Carnegie Hall).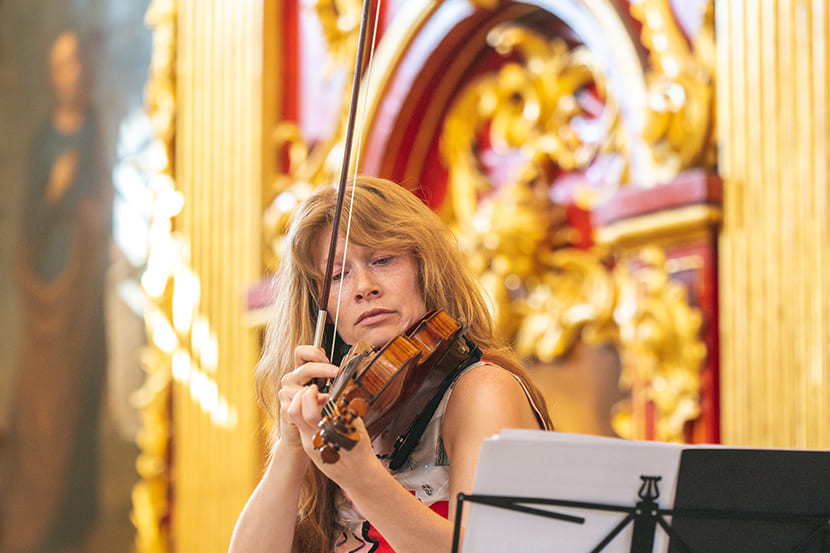 Anna Khmara is a pianist, leading concertmaster of the National Musical Academy named after P.I. Tchaikovsky. She is a laureate of international competitions, with International Chopin Piano Competition in Rome, Grand Prix at International Piano Competition in Belgrade, Competition "Academia Tadini" (Lovere), International Music Competition "Pietro Argento" (Gioia del Colle) and many other. Anna performed on the stages of Ukraine and Poland, USA, Switzerland, Germany, France, Italy, Netherlands, Bulgaria. The pianist's repertoire includes music of various styles and eras, from Teleman and Bach to Stankovych, Pärt and others.