MUSIC OF POETRY – INNA GALATENKO, OLEH BEZBORODKO
"Music of Poetry" by Valentyn Sylvestrov
Sylvestrov's vocal chamber works have always been among the most resonant in the perception of the different generations of listeners. The unique "naivety" of the composer's style makes it possible to release the meaning of the words in such a way that they open the sensuously highest potential of the poetry that we know from the numerous dreams of artists of different epochs and countries.
This genre brings Sylvestrov closer to that sacred meaning of Ukrainian folk song, a fundamental universal of Ukrainian culture. The sound of the Ukrainian language, represented in the works of the Ukrainian poets, and the translations into Ukrainian of the world's poetic heritage, are perhaps the most expressive of Sylvestrov's civic position and his identity. And that is the reason why the composer considers this part of his creative work to be the most valuable.
The Music of Poetry is music by Valentyn Sylvestrov, written to poems by Ukrainian and world poets. The chamber-vocal part of Sylvestrov's creative heritage will be presented by the duet of  Inna Galatenko (soprano) and Oleh Bezborodko (piano) performing the Music of Poetry programme. For Sylvestrov, this music is the pinnacle of his compositional skills, and this music is performed to perfection by Inna Galatenko and Oleh Bezborodko.
This concert is a gift to Valentyn Sylvestrov for his 85th birthday.
Programme:
I. Three songs:
"Cherry Orchard" (2013) T. Shevchenko
"I stood and listened to the spring…" L. Ukrainka
Pastoral (Blue has blown my soul…) P. Tychyna
II. Five songs based on the poems by I. Franko:
1. Your eyes…
2. Oh, you girl…
3. Fly with the wind…
4. It is snowing…
5. Although you will not bloom like a flower…
III. Two songs:
1. I will build a house and a room… (T. Shevchenko)
2. Don't look so friendly… (P. Tychyna)
IV. Two songs (P. Cellan, translation by P. Rykhla):
1. Does the wave still know…
2. A song in the desert
V. Two songs:
1. All my hopes… (T. Shevchenko)
2. She looked brightly… (P. Tychyna)
VI. Two fires are burning (poems by V. Stus)
VII. Two songs based on the poems by L. Kiselyov:
1. Tomorrow the light will come…
2. I am nobody for you…
VIII. Elegy and pastoral:
1. What do you know… (O. Khayam, translation by V. Mysyka)
2. Pastoral (piano solo)
IX. Farewell (J. Keats, translated by S. Krutikova)
The musicians to perform:
Oleh Bezborodko, composer and pianist, studied at Neuchâtel Conservatory in Switzerland and the Ukrainian National Academy of Music, where he now serves as a professor. A member of the National Union of Composers of Ukraine, Bezborodko is a prizewinner in many national and international piano competitions and scholarships including the Revutsky Award (2008) and Lysenko Prize (2017). Bezborodko is in demand as an interpreter of contemporary music and as a chamber musician. He has performed and premiered piano and chamber works of almost all the major contemporary Ukrainian composers, including Concertino for Piano and Orchestra by Valentyn Sylvestrov. His music is both expressive and experimental.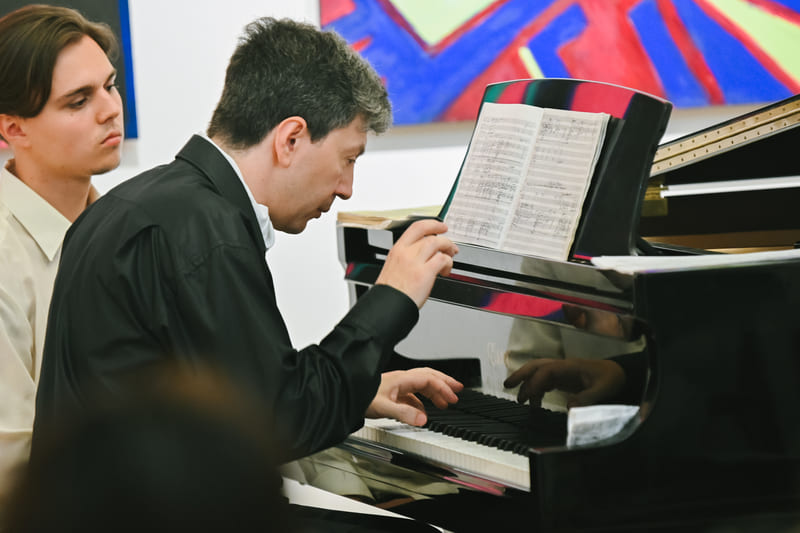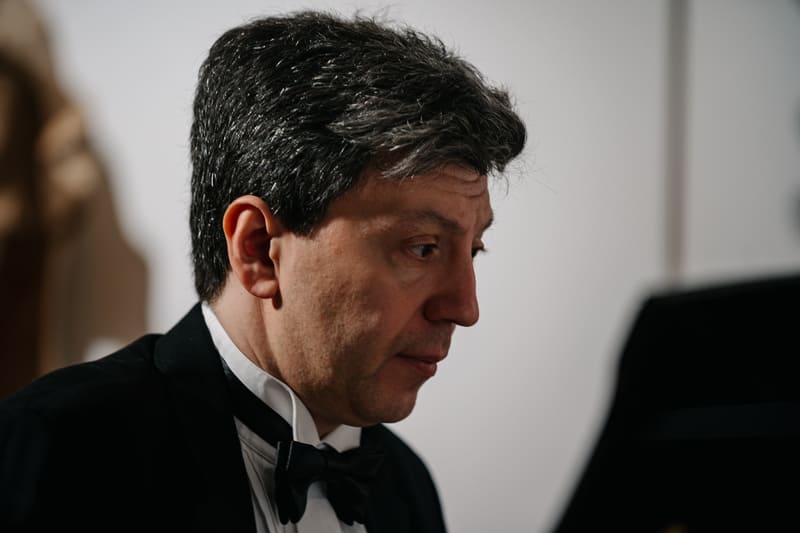 The wide vocal range, subtle sense of artistic style and powerful stage energy of soprano Іnna Galatenko have allowed her to perform the music of different styles and eras. In 2003, she made the first recording in the Commonwealth of Independent States (CIS) of Schoenberg's Pierrot Lunaire. Galatenko has performed in many countries, including Ukraine, Germany, France, Austria, the US, Lithuania, China and Switzerland. Over many years Valentyn Sylvestrov has written all his vocal works for her voice, and she was highly praised by the Austrian press for her performances of his songs at the Austrian festival Klangspuren Schwaz Tirol ('Tone-Routes at Schwaz in the Tirol'). Due to her unique skill and vocal agility, she can perform both the masterpieces of the romantic era (songs and vocal cycles by Schubert, Mahler, Schumann) and the complex music of the avant-garde era.