Olena Naumenko
Olena Naumenko is a Ukrainian artist who has got much to express in her works regarding the crucial topics of the present: she is concerned about her homeland and hopes (as every other Ukrainian) that the enemy encroaching on her native land and culture, as well as her identity, will be defeated. However, Russia doesn't leave behind its attempts to terrorise Ukraine as for now. Olena was born in 1981, Kyiv. She graduated from department of painting of National Academy of fine art and architecture (2005), Kyiv, Ukraine. Member of National Union of Artists of Ukraine since 2008. Member of «Yod» art group. She has a classical art education as a painter.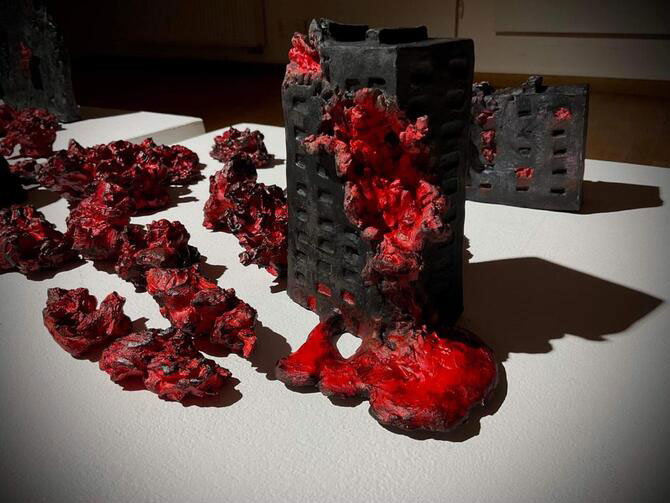 Olena has been a member of the National Union of Artists of Ukraine since 2008 and a participant of the MUHi 2010 contest, participated in the International Contemporary Art Week "Space Odyssey" (2011). She invented and patented her own technique (2011) and the magnetic art game "Naumenko stories" (2018).
With the help of classical and modern techniques she works in the genre of contemporary art with different media and materials: magnet, metal, ceramics, painting, coloured pencils, and video. Her artistic practice is focused on rethinking classical painting and transformation of the theme «Ukrainian painting».
Since the beginning of the full-scale russian invasion, suffering from post-traumatic stress disorder, she has been exploring the sublimation of psychological pain into art, and overcoming depressive states related to the war and the loss of loved ones through immersion in art.