PIANO MARATHON – YEVHEN GROMOV
Yevhen Gromov, one of the most expressive and charismatic Ukrainian pianists, is also one of the most passionate educators of Ukrainian music. His personal archive contains rare texts of the Ukrainian musical tradition, some of which were presented to the performer by the composers themselves.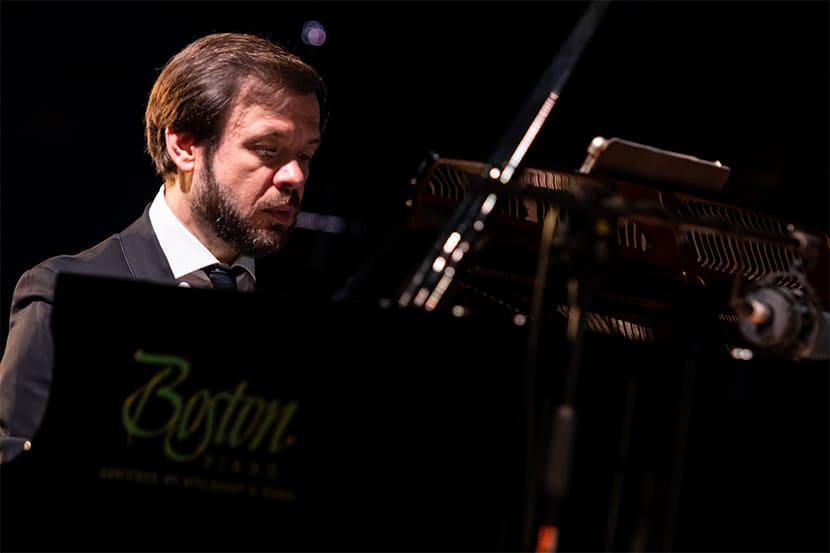 Gromov's research ability is characterised by a non-trivial approach to the selection of the programmes, as well as to the actual method of interpretive readings. This is fully reflected in his programmes: Haydn, Lyatoshynskyi, Stankovych, and Schubert, which show the non-obvious interrelationships between the ideas of European classical composers and the modern Ukrainian piano tradition.
Programme
Joseph Haydn (1732 – 1809)
Piano Sonata No. 54 in G major, Hob. XVI:40, op. 37/1 (1784)
1. Allegretto e innocente
2. Presto
Boris Liatoshynsky (1895 – 1968)
Shevchenko Suite [Three Preludes], op. 38 (1942):
1. Andante sostenuto
The sun is setting and the hills grow dim,
All bird-song ceases, and the fields are quiet,
And man is glad because rest comes for him.
But I look wakeful round; my spirit's fiat
Sets me to fly to orchards of Ukraine. *
(Taras Shevchenko, Fortress of Orsk, 1847)
2. Lento tenebroso
The chimneys choke in mourning without smoke;
While past the gardens and behind the hedges
The sombre grave-mounds swiftly multiply. *
(Taras Shevchenko, Kos-Aral, 1848)
3. Moderato con moto e sempre ben ritmico
And in our land, by faith retrieved,
No foemen shall be brought to birth,
Mothers and sons shall show their worth
And love shall reign throughout the earth. *
(Taras Shevchenko, St. Petersburg, September 24, 1860)
Two Preludes Based on the Melodies of Ukrainian Folk Songs, op.38 bis (1942)
1. Allegro tumultuoso
2. Allegro risoluto
Yevhen Stankovych (*1942)
Piano Sonata (1972)
І. Andante. Allegro
II. Interlude: Lento
III. Allegro
Franz Schubert (1797 – 1828)
Piano Sonata No. 11 in F minor, D. 625 (September 1818) Unfinished
1. Allegro [fragment] Completed by William Carragan (1978)
2. Adagio, D. 505
3. Scherzo: Allegretto – Trio
4. Allegro
* Translated from Ukrainian by C. H. Andrusyshen and Watson Kirkconnell
The musician to perform:
Yevhen Gromov dedicated his life to the study, research, preservation and performance of Ukrainian music.
Yevhen is a true educator of contemporary Ukrainian music. In 2017, Gromov recorded works of the Kyiv avant-garde, turning the scores into music, and introducing them to musical cultural heritage.
The young virtuoso was the winner of the Revutsky State Award in 1998, a prestigious prize in Ukraine. At the beginning of the Millenium, he had been working intensely with many prominent Ukrainian composers (Sylvestrov, Stankovych, Hrabovsky, Godziatsky, Huba, Zagortsev) with the intention of recording the pianistic canon of works composed since the sixties by living Ukrainian composers. Mr Gromov's performed at many international and Ukrainian musical festivals. He has given solo concerts in Ukraine, Poland, Germany, Italy, France, Switzerland and the Netherlands, and has performed more than 100 world and Ukrainian premieres.